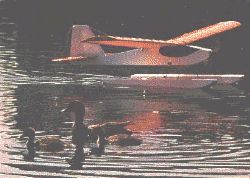 Why Electrics?



Electric-powered R/C planes offer several advantages over traditional gas planes:
Electrics are not obtrusive and noisy like most gas-engined planes. They can be flown almost anywhere and anytime while maintaining good relations with the neighbors...
Electrics are convenient and easy to maintain. No toxic fuels to spill or get all over your hands/clothes. No need for electric starters, glo-plugs, or fuel pumps, or needle valve wrenches. No perpetual fiddling to get the engine running reliably. No engine failures at unexpected or inopportune times.
And best of all, no grimy gooey greasy fuel exhaust to wipe off your plane after a morning's flying :-).

Like all things in life, there's no free lunch. Electrics do carry one primary disadvantage:
Electric power systems are generally heavier than gas setups for a given power output. In order to achieve the same actual perceived power when flying, it is necessary to build the aircraft structure much lighter and use lighter radio components. This means that the building process is more critical to the successful flight of an electric plane. For the beginner, this is often the most difficult part...
Back to the High Voltage Page!