Motors, Batteries, Speed Controls
Electric Motors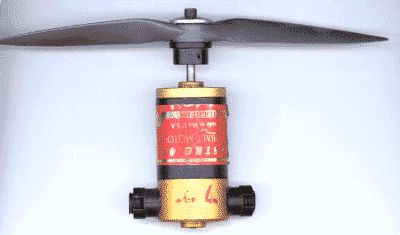 Electric motors suitable for R/C flight must be light, yet be able to handle high (20-60 amp) current loads and high temperatures.

Most kit-supplied motors are of the tin-can variety and feature ferrite magnets. They are cheap and are essentially throw aways since there are no replaceable parts. They generally are 70-110 watt motors, roughly equivalent to .049-.09 glow engines. If a kit is built lightly enough, one can usually have sufficent power to fly reasonably.

Most high-performance electrics use rare-earth cobalt-magnet motors, depicted above. These motors are fully serviceable and yield much more torque per ounce than their tin-can brethren. They can be gotten in sizes from 90 watts to nearly 2000 watts, roughly equivalent to .049 - .90 2-cycle glow engines. The cobalt motors are more expensive, but do not require maintainance and are built to last forever.

As an intermediate solution, there are some manufacturers of cheaper ferrite-magnet "can-type" motors with good power performance (the Graupner Speed 400, 500, and 600 series is a good example).
Electric Motor Database
Remember that all of these motors have the capability of developing either MORE or LESS power depending on your prop choice and the number of nicads you use. The numbers I provide are a starting point.The thrust estimates are especially sensitive to prop choice and should be taken lightly. The thrust speeds are theoretical maximum prop forward speeds. They set upper limits to the speed of the model. More speed can be gotten by using a smaller diameter prop and more pitch. This will likely reduce static thrust, however.

Direct-drive motors are the electric counterparts to 2-cycle engines. They spin small props at very high RPMs. Many sport and aerobatic planes will opt for this route, as should every pylon racer.

Gear-drive motors allow one to spin BIG props at lower RPMs, which loosely corresponds to much higher thrust at lower flight speeds. This is especially useful for slower-flying planes, or planes where top-end speed is less important than vertical climbing ability. Gear-drive motor systems are the extreme electric counterparts of 4-stroke engines.

A word on flight duration: Motor run times are calculated assuming 1700 mAH cells. Flight times are estimated for sport planes by assuming that 1/2 of the motor run time will be at full throttle; the remainder will be at 1/2 throttle for sport-wind cobalt motors and 1/3 throttle for FAI-wind cobalts. 2 minutes of glide time is assumed at the end. This is a conservative estimate -- most sport planes will do better than this, and certainly all sailplanes should do remarkably better!

On target model weights: All suggested model weights are for sport and aerobatic planes. Sailplanes and other low-drag, high-lift designs can easily add 50% more weight than suggested for sport planes.
DIRECT DRIVE MOTORS
electric motor & weight
nicad pack
power output
static thrust
duration
equiv glow engine
sport model weight
Graupner Speed 400, 3 oz
7 cells
60 watts @8amps @11000 RPM w/ 5x5 prop
0.5 lb, 40 mph
6 min run; 8 min flight (using 600 mAH cells)
.02 -0.49 2-cycle
1 lb
Turbo 550 (typical 05), 6 oz
6 cells
90 watts @20amps @8500 RPM w/ 8x4 prop
0.8 lb, 35 mph
6 min run; 8 min flight
.049-.051 2-cycle
2 lbs
Astro Cobalt 05, 7 oz
7 cells
180 watts @30amps @13000 RPM w/ 8x4 prop
1.9 lb, 50 mph
4 min run; 8 min flight
.09-.15 2-cycle
2 - 2.5 lbs
Astro Cobalt 05 (FAI wind), 5.5 oz
7 cells
320 watts @50 amps @17500 RPM w/ 7x4 prop
2.4 lb, 65 mph
2 min run; 6 min flight
.21 2-cycle
2 - 3 lbs
Astro Cobalt 15, 8 oz
12 cells
260 watts @30amps @13500 RPM w/ 8x5 prop
2.4 lb, 65 mph
4 min run; 9 min flight
.15-.21 2-cycle
3 - 4 lbs
Astro Cobalt 25, 11 oz
16 cells
430 watts @30amp @12500 RPM w/ 9x6 prop
3.3 lb, 70 mph
4 min run; 8 min flight
.25-.35 2-cycle
4 - 5 lbs
Astro Cobalt 25 (FAI wind), 10.5 oz
10 cells
450 watts @60amp @12000 RPM w/ 9x7 prop
3.3 lb, 80 mph
2 min run; 6 min flight
.25-.35 2-cycle
4 lbs
Astro Cobalt 40, 13 oz
20 cells
550 watts @30amp @12000 RPM w/ 10x7 prop
4.4 lb, 80 mph
4 min run; 8 min flight
.35-.46 2-cycle
6 - 7 lbs
Astro Cobalt 40 (FAI wind), 11.5 oz
14 cells
580 watts @60 amp @12000 RPM w/ 10x7 prop
4.4 lb, 80 mph
2 min run; 6 min flight
.35-.46 2-cycle
6 lbs
Astro Cobalt 60 (pattern), 22 oz
32 cells
1100 watts @35amp @10000 RPM w/ 13x8 prop
6.9 lb, 75 mph
3.5 min run; 7 min flight
.55-.65 2-cycle
8 - 12 lbs
Astro Cobalt 60 (FAI wind), 19.5 oz
28 cells
1300 watts @60amp @14000 RPM w/ 11x8 prop
7.6 lb, 105 mph
2 min run; 6 min flight
.65 2-cycle
8 - 12 lbs
Astro Cobalt 90, 30 oz
36 cells
1450 watts @35amp @8500 RPM w/ 15x8 prop
9 lb, 65 mph
3.5 min run; 7 min flight
.75-1.08 2-cycle
11 - 18 lbs
GEAR-DRIVE MOTORS
electric motor & weight
nicad pack
power output
static thrust
duration
equiv glow engine
sport model weight
Astro Cobalt 035G, 7.5 oz
6 cells
150 watts @30amp @6,000 RPM w/ 10x6 prop
1.3 lb, 35 mph
4 min run; 8 min flight
.15 4-cycle (?!)
2 lbs
Astro Cobalt 05G, 9 oz
7 cells
180 watts @30amp @5,600 RPM w/ 11x7 prop
2.4 lb, 35 mph
4 min run; 8 min flight
.20 4-cycle
2 - 2.5 lbs
Astro Cobalt 05G (FAI wind), 9 oz
7 cells
320 watts @50amp @7,300 RPM w/ 12x8 prop
2.9 lb, 55 mph
2 min run; 6 min flight
.26 4-cycle
2.5 lbs
Astro Cobalt 15G, 9.5 oz
12 cells
260 watts @30amp @6,900 RPM w/ 12x8 prop
2.8 lb, 50 mph
4 min run; 8 min flight
.26 4-cycle
3-4 lb
Astro Cobalt 25G, 12.5 oz
16 cells
440 watts @30amp @8,400 RPM w/ 12x8 prop
4.2 lb, 60 mph
4 min run; 8 min flight
.40-.48 4-cycle
5-6 lbs
Astro Cobalt 25G (FAI wind), 12 oz
10 cells
460 watts @60amp @8,400 RPM w/ 12x8 prop
4.2 lb, 60 mph
2 min run; 6 min flight
.40-.48 4-cycle
5 lbs
Astro Cobalt 40G, 14.5 oz
20 cells
550 watts @30amp @8,000 RPM w/ 13x7 prop
5.6 lb, 55 mph
4 min run; 8 min flight
.60 4-cycle
6-8 lbs
Astro Cobalt 40G (FAI wind), 13 oz
14 cells
580 watts @60amp @8,000 RPM w/ 13x7 prop
5.6 lb, 55 mph
2 min run; 6 min flight
.60 4-cycle
6-8 lbs
Astro Cobalt 60G (pattern), 23.5 oz
32 cells
1100 watts at 7,000 RPM w/ 16x10 prop
7.3 lb, 65 mph
3.5 min run, 7 min flight
.90 4-cycle
8 - 12 lbs
Astro Cobalt 60G (FAI wind), 21 oz
27 cells
1300 watts @60amp @8,600 RPM w/ 16x10 prop
8-9 lb, 80 mph
2 min run; 6 min flight
1.08 4-cycle
9 - 14 lbs
Astro Cobalt 90G, 32 oz
36 cells
1450 watts @35amp @5,000 RPM w/ 20x10 prop
10 lb, 50 mph
3.5 min run; 7 min flight
1.2-1.5 4-cycle
13 - 20 lbs
---
Back to the Electric R/C page